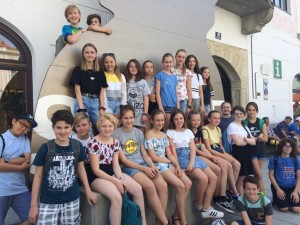 On Wednesday, 13th June 2019, Miss Gauch and Miss Haslinger took our class 2M to Enns to see the Roman museum. Our 'Roman time travel' started at Linz central station, from where we took the train to Enns. From the station in Enns we took a walk for approximately 20 minutes to the Roman exhibition at the museum Lauriacum.
During Roman times Enns was called Lauriacum. It was a legion base and an important city at the Danube limes.
Inside the museum we were picked up by the museum guide at 9.30 a.m.
The guide led us through the museum, explained the exhibits of the Roman empire and told us how they were used.
For instance, we learned that the Roman legionnaires had to cook their own food. They obviously ate a lot of wheat bread and carbohydrates, proof of that were their bad teeth which we could look at on a skull exhibited. They also made themselves wine, which they sweetened with honey.
The Romans slept in bunk beds.
The soldiers had to keep themselves clean to avoid infections and epidemics in the fort.
Romans already had medicines as well as hospitals, where also war casualties were treated.
We were shown how legions made their battle line-up and were told about the importance of the Roman Aquila, which was a golden eagle.
There were skeletons from a whole family including a kid.
Finally, we watched a movie about a Roman family and scenes out of their everyday life.
The really interesting visit at the Lauriacum museum ended at 11. a.m. with a nice photograph of our wonderful class 2M.
Laura Paula Hattinger, 2M