Linz International School Auhof (LISA) is the first state-run school in Upper Austria, which teaches a general education curriculum in English.
"We are deeply committed to developing core moral values and perspectives in our students, accompanying them in discovering their talents and building the confidence they need to step forward into the future!" (Gottfried Jachs, former Headmaster)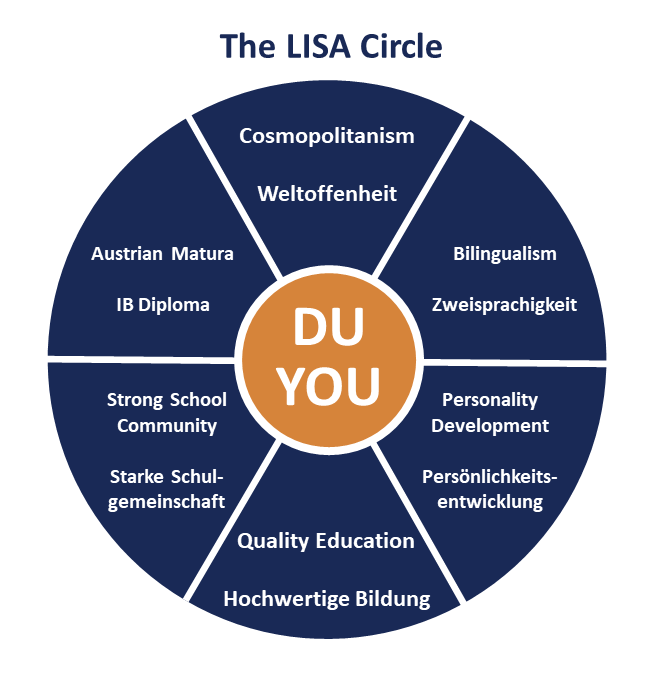 Holistic education in English
An excellent education in English prepares your child for a globalized world. Elementary school students with German as their mother tongue do not need any previous knowledge of English, as the grades 5 and 6 (year 1 and 2) are taught bilingually. Those who do not speak any German will receive a German course which is appropriate to their level.
We are communicators: We express ourselves confidently and creatively in more than one language and in many ways. We collaborate effectively, listening carefully to the perspectives of other individuals and groups.* Respectful communication is a core value for us.
Self-Confidence
Stage play (Drama) is offered from the first class (5th grade). Even our youngest learn to present themselves on stage and thus strengthen their self-confidence. In addition, they expand their vocabulary and their expression. Students' creativity is encouraged weekly through story creation and improvisation. There is also a strong emphasis on teamwork; we find theater classes are ideal for teaching mutual respect and tolerance for one another.
We are reflective: We thoughtfully consider the world and our own ideas and experience. We work to understand our strengths and weaknesses in order to support our learning and personal development.* Mutual respect and tolerance are central school principles. By valuing ourselves and others, all our students can grow their self-confidence.
Personality development
Education is more than just passing on knowledge. It is our goal to educate inquisitive, educated and empathic young people who work for a better world through international understanding and respect. Students should develop into strong and mature personalities. We have a supportive school culture and we guide our students through this important development phase of their lives. We are balanced and caring. We understand that personality development cannot simply be "taught".
We are balanced: We understand the importance of balancing different aspects of our lives—intellectual, physical, and emotional—to achieve well-being for ourselves and others. We recognize our interdependence with other people and with the world in which we live.*

We are caring: We show empathy, compassion and respect. We have a commitment to service, and we act to make a positive difference in the lives of others and in the world around us.*
Cosmopolitanism
Our school branch has a strong school community. Both Austrian and international students pursue the goal of personal growth through education. Around a quarter of our students come from all over the world. Respectful interaction with other opinions and cultures is taught and also lived. Thanks to our international orientation, diversity and internationality, we convey a cosmopolitan outlook. The knowledge that one's own language, culture and worldview is often just one of many promotes a cosmopolitan way of thinking. Our students with a different mother tongue learn German as a foreign language and receive German lessons that correspond to their language level. We value diversity, tolerance and openness.
We are open minded: We critically appreciate our own cultures and personal histories, as well as the values and traditions of others. We seek and evaluate a range of points of view, and we are willing to grow from the experience. *
Individuality
We cater to the interests of different students. Therefore we offer two branches, LISA Languages ​​and LISA Economics. In the last two years, students can choose individual subjects as part of the "IB Diploma Programme" according to their interests and abilities. We respect students' views and interests. As part of the IB Diploma Programme, students can choose elective subjects according to their own interests. The CAS (Creativity Activity Service) program enables students to discover new things and broaden their own horizons. We respect the individuality of different people and their right for their opinion to be heard.
We are inquirers: We nurture our curiosity, developing skills for inquiry and research. We know how to learn independently and with others. We learn with enthusiasm and sustain our love of learning throughout life.*
Qualifications
Pupils with German as their mother tongue are prepared for the Austrian school leaving examination (Matura) as well as the IB Diploma. Students with English or a different academic language other than German are prepared for the IB Diploma.
We are knowledgable: We develop and use conceptual understanding, exploring knowledge across a range of disciplines. We engage with issues and ideas that have local and global significance. *
* Taken verbatim from the IB learner profile (IBO).