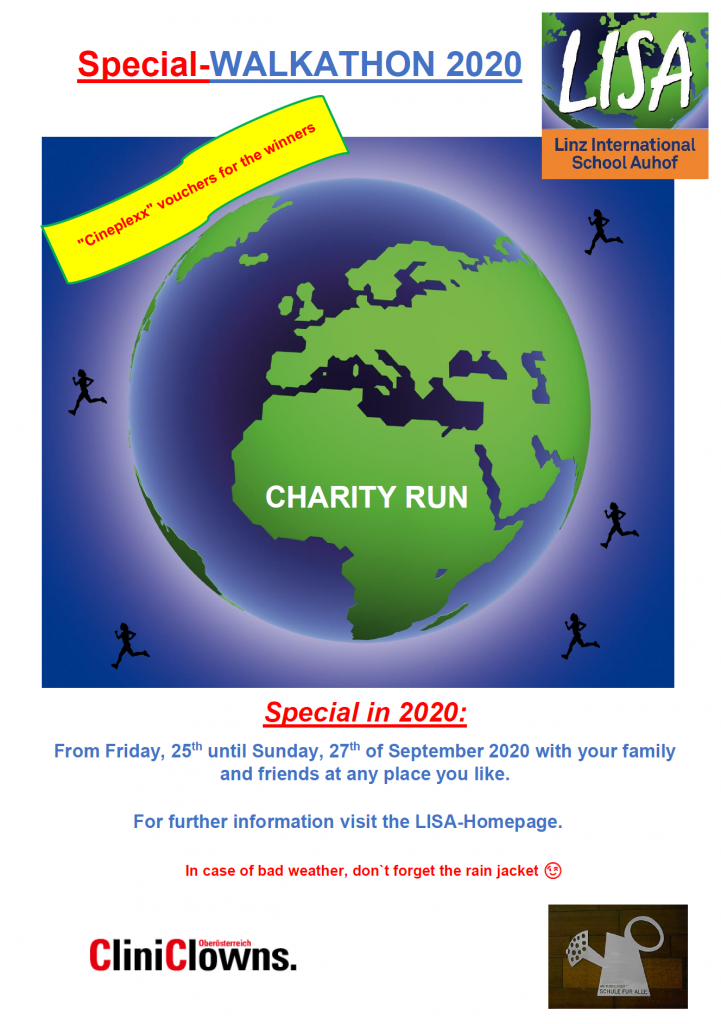 Dear LISA students! Dear LISA parents! Dear LISA teachers!
Unfortunately, the LISA WALKATHON, which was planned by the LISA PTO (Parent Teacher Organisation) for September 25th 2020, cannot take place as usual this school year.
Due to the special circumstances we planned a Charity-Run, which we will bring to you!
Every walker/runner is invited to donate a lump sum or an amount of X euros per kilometer run. The amount is not important as every cent counts!
The collected money will be given to the CliniClowns Oö (https://www.cliniclowns-oberoesterreich.at) and partly to the "Schule für Alle" (https://www.schule.fuer.alle.eduhi.at/).
All participants of our school have a chance to win one of ten 20 € Cineplexx gift cards!
How it works:
Wear your LISA t-shirt and run or walk as many kilometres as you can from Friday, September 25th until Sunday, September 27th 2020! Motivate your family and friends to join because together it's even more fun!
If you like you can generate a link with photos and videos (not longer than 45 seconds) of your athletic performance at wetransfer.com (free). Send this link to PTO@europagym.at and we will upload your photos and videos to the LISA homepage.
Ask your family, friends, or even companies to donate for the kilometers you ran.
Put the collected money into an envelope, seal it, and write your name and class on it to take part in the raffle of the cinema tickets.
Hand the envelope in at the LISA administration on the 3rd floor from Monday, September 28th to Friday, October 2nd from 7:30 to 10:00 a.m.!
All participants will receive a certificate as a thank you for taking part.
The winners of the Cineplexx gift cards will be drawn by a "lucky angel" and contacted personally.
Do you have any further questions? Write an email to PTO@europagym.at We're happy to help!
We're already looking forward to having many participants!
Enjoy walking, running, and collecting donations!

Liebe LISA SchülerInnen! Liebe LISA Eltern! Liebe LISA LehrerInnen!
Leider kann in diesem Schuljahr der von der LISA PTO (Parent Teacher Organisation) für 25. September 2020 geplante LISA WALKATHON nicht wie gewohnt gemeinsam stattfinden.
Aufgrund der besonderen Umstände haben wir einen ganz speziellen Charity-Run geplant. Wir bringen dieses tolle Event zu euch!
Jede/r LäuferIn/WalkerIn ist dazu eingeladen, pro zurückgelegtem Kilometer einen Betrag X oder auch einen Pauschalbetrag zu spenden. Die Höhe der Spende ist völlig egal, denn jeder Cent zählt!
Der gesammelte Betrag wird an die CliniClowns Oö (https://www.cliniclowns-oberoesterreich.at) und zu einem kleinen Teil an die "Schule für Alle" (https://www.schule.fuer.alle.eduhi.at/) übergeben.
Unter allen Teilnehmern unserer Schule werden zehn Mal 20 € Cineplexx Gutscheine verlost!
Und so funktionierts:
Zieh dein LISA T-Shirt an und laufe oder gehe in der Zeit von Freitag, 25. September bis Sonntag, 27. September 2020 so viele Kilometer wie möglich! Motiviere und begeistere auch deine Familie und Freunde dazu, dich zu begleiten! Gemeinsam macht es noch mehr Spaß!
Wenn du magst, kannst du unter wetransfer.com (gratis) einen Link für deine Fotos und Videos (höchstens 45 Sekunden) von deiner sportlichen Leistung generieren. Sende diesen dann an PTO@europagym.at und wir laden deine Fotos und Videos auf die LISA Homepage hoch.
Bitte deine Familie, Freunde oder auch Unternehmen um eine Spende für deine gelaufenen Kilometer.
Gib das gesammelte Geld in ein Kuvert, klebe es zu und beschrifte es mit deinem Namen und deiner Klasse um an der Verlosung der Kino-Gutscheine teilzunehmen.
Bitte bringe dein Spendenkuvert ab Montag, 28. September bis Freitag, 2. Oktober 2020 in der Zeit von 7.30 bis 10.00 Uhr in die LISA Administration im 3. Stock!
Als Dankeschön für die Teilnahme gibt es für alle SchülerInnen eine Urkunde.
Die Gewinner der Cineplexx Gutscheine werden von einem Glücksengerl gezogen und persönlich verständigt.
Hast du noch Fragen? Schreibe ein Mail an PTO@europagym.at. Wir helfen dir gerne!
Wir freuen uns schon jetzt über möglichst viele TeilnehmerInnen!
Viel Spaß beim Laufen, Walken und Spenden sammeln!