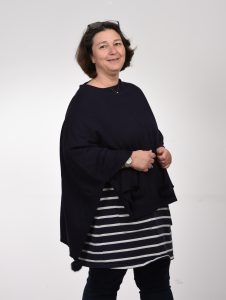 Dipl.-Päd. Rim Abu Zahra-Ecker BEd, MA
Der LISA Unterstützungsverein bietet allen Eltern eine Plattform zum Meinungsaustausch und fördert kulturelle, sportliche und soziale Projekte und Angebote. Außerdem schafft er die finanziellen Rahmenbedingungen für die exzellente internationale Ausbildung der LISA-Schüler*innen. Mit Bezahlung Ihres Jahresbeitrages sind Sie automatisch Mitglied im LISA-Unterstützungsverein.
Alle LISA-Eltern sind herzlich eingeladen mit Kreativität, Ideen und Expertise bei unseren Aktivitäten mitzuwirken. Besonders am Herzen liegt uns unsere dynamische und lebendige Schulgemeinschaft.
Als Vorsitzende des LISA-Unterstützungsvereins ist mir der persönliche Kontakt besonders wichtig. Sie können sich jederzeit mit Ihren Fragen, Anliegen bzw. Sorgen an uns wenden.
Ganz besonders freut es mich, wenn Sie an unseren Meetings, zu denen Sie Einladungen erhalten, teilnehmen.
---
The LISA-Support Association offers all parents a platform to exchange views and promote cultural, sporting and social projects and offers.
The LISA-Support Association also creates the financial framework for the excellent international education of LISA-students. By paying your annual membership fee you are automatically a member of the LISA-Support Association.
All LISA-parents are invited to participate with creativity and expertise in our activities. We are particularly close to our dynamic and lively school community.
As chairwoman of the LISA Support Association personal contact is very important to me. You are always welcome to contact us with your questions, concerns or sorrows. I am particularly pleased if you participate in our meetings for which you will receive invitations.
The main officers of the LISA association are:
Key members:
• Chairwoman: Dipl.-Päd. Rim Abu Zahra-Ecker BEd, MA
• 1. Obfrau Stv.: Salzbrenner Claudia
• 2. Obfrau Stv.: Mag.a Pramer Gerlinde
• Kassierin: Braumandl Sabine, MAS
• Kassier-Stellvertreterin: Sigrid Ruhs
• Schriftführerin: Adey Edith, BEd
• Schriftführerin Stv.: Kößler Ingrid
• Rechnungsprüferin: Kager Elisabeth
• Rechnungsprüferin: Christian Neuhäusser
Contact (remove [ ] before sending the email):
lisa.unterstuetzungsverein [@] europagym.at
Administration: lisa [@] europagym.at
For detailed information about financial support contact the LISA administration (lisa [@] europagym.at)
ZVR Number: 444742236
The LISA Support Association is a publicly registered society and governed by the Austrian law for societies ("Vereinsrecht") and its statutes.